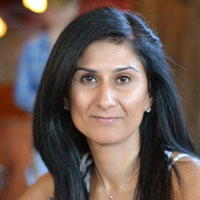 Yoga has been an integral part of my household since childhood, although at that time I did not realize it. Whether I was practicing asana with my mom, chanting at spiritual gatherings, or watching my parents meditate, these powerful tools of Yoga have supported my upbringing and led me to where I am today.
I completed my first Yoga training in 2007 with Patanjali Yogpeeth Canada, and went onto deepening my practice and knowledge by completing a 350 hour Yoga Teacher Training with East to West Yoga in 2009. Since then, I have continued to study, practice and teach and have certifications in Children's Yoga, Teens yoga, Athletes Yoga and Yin & Restorative Yoga.
The more I immersed myself in learning and teaching the more I recognized the healing capacity of Yoga. This led me to complete a 2 year intensive Yoga Therapist Training program in the lineage of Krishnamacharya.
As a Yoga Therapist, I work with people on a one-to-one basis to enable and empower individuals to heal from within. Where general Yoga keeps us on the steady path of wellness and regular practice provides the equanimity to cope with the stresses and various stages of life, Yoga Therapy specifically targets the root cause of affliction. The goal of Yoga Therapy is to heal by appeasing the symptoms, positively enhance quality of life and thereby reduce suffering.
In my classes the emphasis is always on the incorporation of breath in asana (postures) to create a deeper level of practice and cultivate body awareness. Body awareness not only creates a safer practice for students, but translates into their daily lives, resulting in a healthier lifestyle.
My mission is to make the practice and benefits of yoga easily accessible to anyone who wishes to practice. I believe that yoga offers a wealth of benefits that everyone must have a chance to explore.