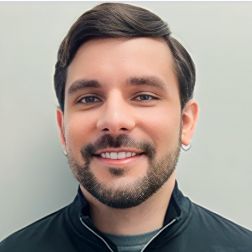 Erik Merentsov is a dedicated and passionate foot specialist with several years of experience in the field of chiropody. He is committed to providing exceptional foot and ankle care to patients of all ages. His journey in the world of chiropody began with a deep-rooted fascination for the complexities of the human foot and a desire to improve people's quality of life by addressing their foot and ankle health.
He graduated from the chiropody program at the Michener Institute of Education where comprehensive education was provided in the diagnosis, treatment and prevention of foot and ankle disorders. His experience as a chiropodist spans a variety of healthcare settings, including hospitals, private clinics, and community health centers.
Outside of their role as a chiropodist, Erik prioritizes a well-rounded approach to health and lifestyle. This includes a dedication to sports and exercise, company with his Siberian husky canine companion and exploring diverse culinary experiences. This multifaceted approach to health, fitness, companionship, and culinary delights exemplifies Erik's commitment to a vibrant and fulfilling life.
Education and Training: 
Bachelor of Science with Specialization in Biomedical Biology (Honors) – Laurentian University, Sudbury, ON
Advanced Diploma in Chiropody – Michener Institute of Education at UHN – Toronto, ON
Specialty and Interests: 
General Foot Care
Foot Deformities
Foot and Ankle Injuries
Heel and Arch Pain 
Skin and Nail Conditions 
Sports Injuries 
Diabetic Foot Disorders
Orthotics
Nail and Soft-Tissue Surgery
Professional Memberships: 
College of Chiropodists of Ontario
Ontario Society of Chiropodists 
Certifications: 
Standard First Aid with CPR-HCP
Compression Stocking Measurement and Fitting