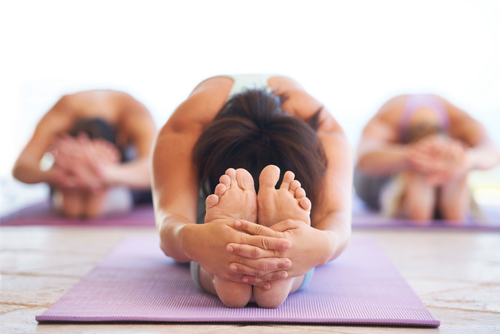 Yoga therapy is a personalized approach to relieving your pain and discomfort along with the stress that emanates from that. Yoga has always been a holistic healing discipline that offers numerous tools for supporting health, healing and personal transformation. Yoga therapy considers the body a holistic entity made up of different dimensions – physical body, breath, mind, personality traits, and emotions that are mutually dependent on and mutually influence one another.
When you think of yoga in the West most people associate it with postures for stretching and flexibility. Postures are just one of the many tools that yoga offers. Other tools include: conscious breath regulation, meditative practices, visualizations, vocal sounds, life style changes and dietary recommendations. These tools will empower you to support the optimal functioning of your parasympathetic nervous system, which in turn supports homeostasis and healing. Rather than being a passive recipient to treatment, you are actively engaged in your well-being and responsible for your recovery.
The Yoga therapist acts as a guide, selecting the tools for recovery and teaching the appropriate way to implement these tools. Once this is done, it is up to you to practice diligently, observe any changes and provide the feedback to your Yoga Therapist. This way the healing comes from within you, rather than from the outside.
Where general Yoga group classes keeps you on the steady path of wellness and regular practice provides the equanimity to cope with the stresses and various stages of life, Yoga Therapy specifically targets the root cause of affliction. The goal of Yoga Therapy is to heal by appeasing the symptoms, positively enhance quality of life and thereby reducing suffering. Because it is not chemical, Yoga Therapy is a complement to other systems of treatment.
Also offering specialized Group Yoga Therapy.
These yoga sessions are intended for a specialized group with a common therapeutic need. 
Yoga for back care – Neck, upper back and low back
Nourish a positive relationship with your back in this therapeutic yoga class designed especially for chronic back concerns. We  will strengthen the core and supporting muscle groups, increase range of motion, improve posture, and draw awareness to the inner-healer through breath control and meditation. Ideal for those who are recovering from a specific injury, have "desk neck," and or simply prefer a gentle & healing yoga class.
Chair Yoga for limited mobility
Chair Yoga allows for the adaptation of traditional yoga poses, making it accessible to everyone. Whether you are challenged with standing for periods of time, unable to be on the floor, or a senior looking for a supportive way to experience yoga, this practice is for you. The class also includes breathing, relaxation and meditation techniques, providing a total yoga experience.
Yoga for Arthritis
Designed for people with arthritis, you will practice gentle, flowing yoga exercises to keep joints supple, strong and lubricated. You will learn joint freeing exercises to help you relax and reduce the discomfort that you might be experiencing due to arthritis.
Yoga for Stress & Anxiety
Join us for a gentle and accessible series designed to calm your mind and relax your body. This series is appropriate for people experiencing acute or chronic stress, anxiety disorders, and/or difficulty with sleep. It is also appropriate for those needing some R & R. Over the course of 4 weeks, you will have the opportunity to explore a wide variety of mind-body practices that reduce anxiety and increase resilience to stress.
Restorative Yoga
Relaxation is the natural precursor to healing.  Join us for a slow, restorative class involving long holds in order to tap into the deeper connective tissue and structure of the body. Deep restorative work allows us to restore not only physically, but also mentally and emotionally as we learn to fully surrender and let go. This series of Yoga classes is particularly beneficial to those with chronic ailments or those who wish to reduce stress, replenish energy and experience the meditative aspects of the postures.