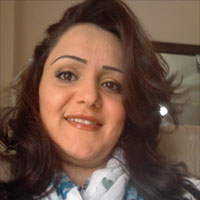 Enas has been practicing as a Registered Massage Therapist since 2006 and since then she has been building a career of healing hands.
Before she became a Massage Therapist, she earned a Bachelor Degree in Science (Physiotherapy) from Karachi/Pakistan.
Enas is keen and happy to help her clients gain control over their health issues and manage any physical pain and discomfort they encounter through their everyday life and work.
Over the years she has expanded her skills. She offers clients Therapeutic Swedish Massage, Pre/ Post-Natal Massage, Hot Stone Therapy, and Vodder school Lymphatic Drainage Therapy.
On a personal note, recently her life has been filled with her precious son. They love to play in the park, share laughter while baking together and the having the greatest time of all dancing silly. She is not very athletic, but likes to go for long walks and run around the block. She enjoys yoga and simple light exercises with her little one.