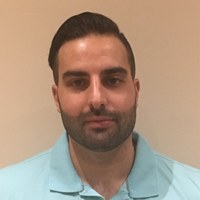 Domenico is a registered physiotherapist with the Ontario College of Physiotherapists. In 2015, he obtained his Master of Science degree in Physiotherapy at McMaster University; and previously a Bachelor of Science (Specialized Honours) in Kinesiology, at York University, in 2013.
Domenico's interest in the field of physiotherapy developed at a young age while playing competitive soccer, and was further enhanced in high school after completing his exercise science course. These experiences, coupled with his desire to help others, have led Domenico to a career in physiotherapy.
Domenico is a strong advocate of healthy living. He understands the importance of communication, the implementation of multiple treatment strategies, and injury prevention. Domenico plans to further enhance his skills by completing additional qualifications in; Concussion Management, Acupuncture, and Kinesio Taping. Domenico is committed to assisting his patients in achieving their rehabilitation goals and improving their overall wellness.
Domenico is thrilled to be a member of the centre's team and looks forward to providing you with the best evidence-based care.